Meaningful Gift Giving This Holiday Season
Keeping with the theme of 2020 being a year of doing so many things differently, we hope you will consider giving a gift in celebration of our mission work this season. Some of the outreach activities that we support are the Presbyterian Children's Homes and Services and Chenoa Stock and Jed and Jenny Koball's mission work in Peru.
Please read more about these missions below. Thank you in advance for your generosity! May you be showered with the blessings and joy of Christmastime!
To give a meaningful gift this season, here are so ways you can give this year.

If you would like to make a gift to

PCHAS

, please send checks to: PCHAS at 1220 N. Lindbergh Blvd.

St. Louis, MO

63132, and be sure to note who your gift is in celebration of so that it can be acknowledged.

If you would like to make a gift to

Chenoa Stocks' mission

in Peru, please make checks payable to the church, earmarked for Chenoa Stock and mail to First Presbyterian Church at 401 Darst Rd., Ferguson, MO 63135.

If you would like to make a gift to

Jed & Jenny Koball's mission

in Peru, please make checks payable to the church, earmarked for Jed & Jenny Koball and mail to First Presbyterian Church, 401 Darst Rd., Ferguson, MO 63135.

In the midst of the pandemic, PCHAS programs and services continue to bring comfort to children and families who are more anxious than ever before. There is an even greater need for services which are already designed to help children and families heal from traumatic experiences. In compliance with CDC recommendations, normal fundraising events had to be cancelled. 
The funds raised through these events are crucial to ongoing operations, but rather than pulling back, we have increased the level of support by also helping families with essential needs (i.e. rent, utilities, food).
First Presbyterian church welcomes, Educate Now to Achieve Later (ENAL) After-School Tutoring Program.
Beginning Monday, June 22, ENAL will be using our Sunday School rooms and kitchen. Monday through Friday, the ENAL Summer Initiative program will provide Riverview Garden students, intensive tutoring in reading and math and offers enrichment activities (i.e. St. Louis Science Center, Robotics, Swimming Lessons, Cooking Classes, etc.). Each Friday, each ENAL program participants go out into the community (City Museum, Forest Park Forever, St. Louis Science Center, Community Swimming, Bowling, etc.) where they learn team building and character through modeled behavior and directives that promote positive decision making.
Thank you Shawntelle (Founder of SoulFisher Ministries) and Duane Mazzacavallo for working together to bring this valuable program to our attention and our building.
Little Bit Foundation School Supplies Drive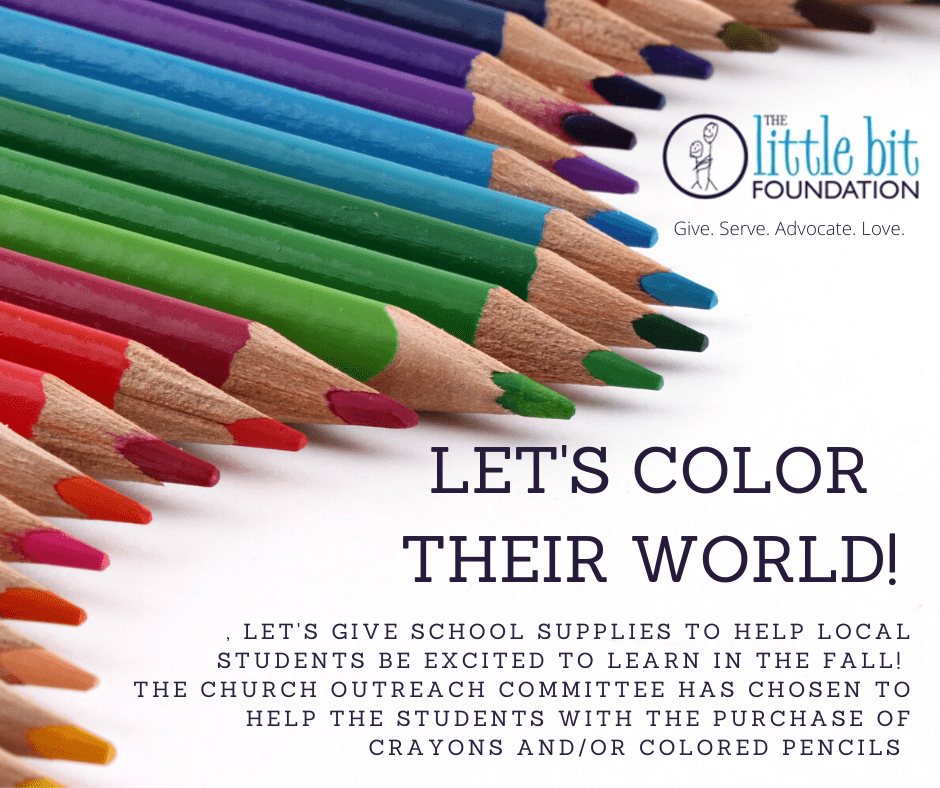 This summer we are supporting a drive for the Little Bit Foundation to collect school supplies for the upcoming year. Due to coronavirus they have been unable to take donations since March. Now that Little Bit is able to accept donations, let's give school supplies to help local students be excited to learn in the fall! The Church Outreach Committee has chosen to help the students with the purchase of crayons and/or colored pencils – let's COLOR THEIR WORLD!
You can purchase the items and bring them to church or you can purchase directly on Amazon and have them delivered right to the Little Bit Foundation. 
If you would like to purchase on Amazon, please use this url