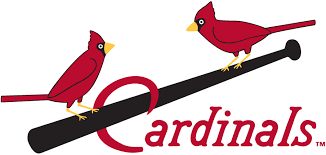 Our Connection to the Saint Louis Cardinals
written by Karen Schriefer
The iconic "Birds on the Bat" that has been on the Cardinals' uniforms was born in early 1921 when the Cardinals general manager, Branch Rickey, attended a meeting at the First Presbyterian Church of Ferguson.
A church member, Allie May Schmidt was responsible for decorating the tables at the Men's Fellowship Club gathering. She got the inspiration for the decorations when she spotted two Cardinals facing each other on a snowy branch. The table decorations were 82 cardboard cutouts of birds, each hand-colored bright red with a yellow beak and affixed to a brown piece of string, representing a branch.
Branch Rickey was so impressed with the decorations he asked her father, Ed Schmidt, then a commercial artist, to complete the design for the Cardinal uniform.
The design was used on the uniforms for the first time in 1922. The first design is shown below and was used through 1926.